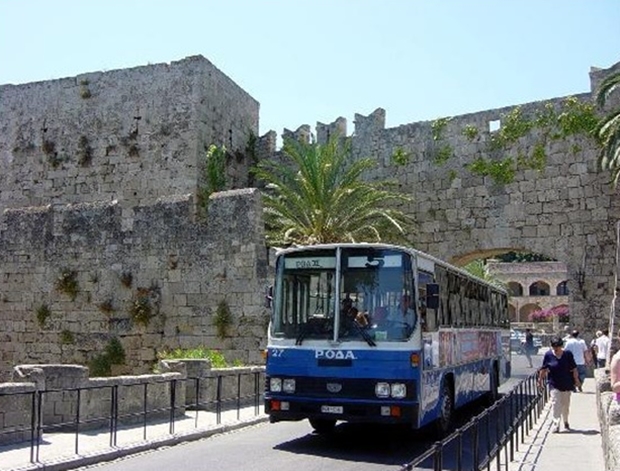 BUSES: The transportation in Rhodes is generally taken with taxis and by regular public bus services.  The island has a well organized bus network.  Bus routes and schedules are exhibited in Rhodes Harbour and at the bus stops in Greek and English language.
Local bus services are widespread throughout the island.  There are two separate lines of services that journey to all the regions of the island. "Roda"covers routes from west coast to desinated points of the eastcoast and up to Faliraki. "Ktel" operates from the east coast of the island and extends to the village of Kattavia.  Both companies' point of departure is from New Market at Mandraki Harbour.
Roda:Tel :22410 24 129-36370
Ktel:Tel: 22410 27 706-75134
Taxi:Central Station Mandraki: 22410 27 666
Faliraki:22410 85 444
Lindos: 22440 31 466
Lalysos: 22410 92 515
Archangelos: 22440 24 111
Afantou:22410 51 777  Paradisi:(airport):22410 81 461
Radio Taxi:22410 64 712-64734-62179
Disabled Taxi:22410 77079
TAXI:There are taxi stations in the district of Rhodes Harbour and in the environs of the castle.  The cost of taxi fares are fixed at 1 euro per km set by the Greek authorities.
MOTORCYCLES: One of the best ways to travel around Rhodes is by a motorcycle or a four wheel drive quads.  There are many rent a motorcycle shops available in the city.
SEA TRAVEL: There are ferryboats departing  daily from Rhodes to  other islands.  However, departure days and hours differ during summer and winter seasons.
Some of the islands which you can travel by sea are Symi, Kos, Kalymnos, Leros, Patmos, Santorini and Piraeus.
Especially during summer season there are regular ferries operating from Rhodes to Symi every morning departing at 09:00.  The journey takes one hour only. Departure is at 17:00 hrs back to Rhodes thus visitors can spend seven hours on this beautiful island on daily trips.
AIRPORT: Diagoras International Airport is only 15 km away from Rhodes town centre.  From the airport and from the town centre there are regular bus services and taxis.  Taxi fare of 20 euros is the cost from Rhodes town centre to the airport.